On Friday 18th & Sat 19th May, the hundreds of athletes from across the province who descended on the Antrim Forum in order to represent their respective schools at the Ulster Schools' T&F championships were rewarded with dry, sunny conditions. Unfortunately the light breeze directly into the faces of the sprinters and some jumpers did affect times & distances but didn't prevent a host of North Down AC youngsters from collecting titles and medals across a range of events and age groups.
In the Minis (Y8), Stephanie Bell (Our Lady & St Pats, Knock) set a PB on her way to winning gold in the 100m with a time of 13.92s. Poppy Dann (Glenlola) also set a PB and won gold in the long jump with a best jump of 4.43m and finished 6th in the highly competitive 100m race in 14.52s. All rounder, Niamh Fenlon (Sullivan Upper), set two PBs with a throw of 8.49m to take gold in the shot (2.72kg) & a leap of 4.21m to finish 4th in the long jump.
In the Minors (Y9), Sophie Hoey (Strathearn) won gold, silver & bronze as she finished 1st in the long jump with a PB of 4.66m, 2nd in the 75mH with another PB of 12.28s & 3rd as part of the Strathearn 4x100m relay team. Lexx McConville (Lurgan Junior HS) took gold in the 75mH in a new PB of 12.02s & bronze in the high jump with 1.55m while Flynn Longstaff (Campbell College) won silver in the shot (3kg) with a best throw of 11.08m.
(Photo courtesy of Charles Beaumont)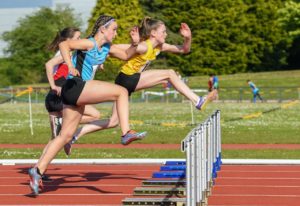 The only medalist in the Juniors (Y9) was Rose McGreevy (Glenlola) who won individual bronze in the 75mH in a new PB of 12.33s and gold as part of the Glenlola 4x100m relay team.
The Inters (Y10 & 11) was the club's most successful age category, producing 5 medalists. Louise Canning (Glenlola) won bronze in the 100m in 13.21s & gold in the 4x100m relay while Rachel McCann (Sullivan Upper) continued her form of last year, comfortably winning the 300m by over 1.5sec in 41.30s. Faye Nixon (Bloomfield Collegiate) suffered a rare defeat in the shot putt (3kg), however it did take a new record performance to do so and she still took silver with a best effort of 11.65m. Amy Kimber(Sullivan Upper), rather unusually threw exactly the same distance of 27.97m to take bronze in both the discus (1kg) & javelin (500g) while our only male medalist was Troy McConville (Craigavon Senior HS), who, despite struggling with a foot injury, secured two bronze medals in the 100mH & HJ with performances of 14.35s & 1.80m respectively.
(Photo courtesy of Charles Beaumont)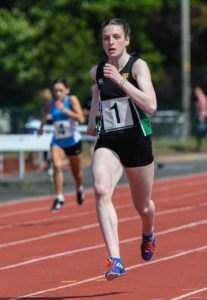 In the Seniors (Y13 & 14) Molly Longstaff (Strathearn) proved that perseverance does pay off as she secured her first Ulster Schools' sprint medal when holding off a late challenge to secure bronze in the 100m with a time of 13.46s which was followed by a silver in the 4x100m relay. Rio Catney (BRA) doubled-up over the 1500m & 3000m and was our only distance medalist. On Friday evening, she ran 11:02.94 to take silver in the 3000m and returned on Saturday to set a new PB and take bronze in the 1500m with a time of 5:04.56. For the fifth consecutive year, Aaron Sexton (Bangor Grammar) completed a comfortable sprint double, winning the 100m in 10.86s & the 200m in 21.99s and later lead off the BGS 4x100m relay team that finished second. Isaac Hart (Sullivan Upper) took bronze in the 200m in 23.77s & finished 4th in the long jump with 5.74m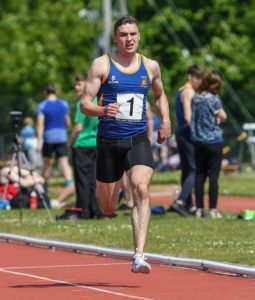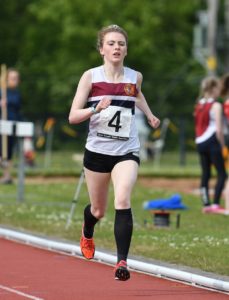 (Photos courtesy of Charles
Beaumont)
Other finlaists were:
Minors
Nathan Semple (Bangor Grammar) 7th in the 800m in 2:17.83
Juniors
Megan Drummond (Glenlola) 4th in the 100m in 13.45s, 5th in the long jump with 4.64m & 1st Inter4x100m
Casey Dawson (Strathearn) 6th in the 200m in 28.99s
Amelia Tyler (Victoria College) 5th in the 800m in 2:32.79
Tara McDonough (Sullivan Upper ) 5th in the 1500 in 5:09.10
Zara Hanna (Strathearn) 5th in the 75mH in 13.36s
Erin Kennedy (Sullivan) 7th in the shot (2.72kg) with 8.64m
Amy Ellison (Strathearn) 7th in the hammer (2.5kg) with 21.26m
Inters
Megan Briggs (St. Columbanus) 5th in the 300m in 45.07s
Bryanna Catney (BRA) 6th in the 1500 steeplechase in 6:22.9
Jakob Swann (Bangor Grammar) 4th in the 800m in 2:07.71
Zac Moraghan (Sullivan Upper) 5th in the 100mH in 16.12s
Jonny Moore (Sullivan Upper) 4th in the long jump with 5.95m