The Mary Peters track was bathed in sunshine for this international laden track event which saw athletes attending from as far afield as Poland. North Down once again had a great turnout with reasonable success.
The first win of the evening came in the boys Primary schools 1000M race where JJ Holley led from the front and reminded us of Sebastian Coe as he dealt with any challengers with an injection of speed, in the end winning by 3 seconds with 3:16.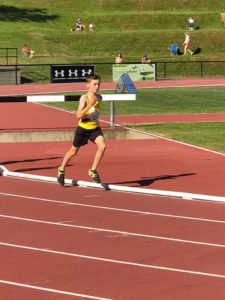 Our next winners of the night came in the same race, the mixed 3000M. Craig McMeechan worked hard to stick with the leader for six and a half laps and then with a lap to go broke away, eventually winning by 10 seconds recording 8:45:13. Jessica Craig stuck to the task of tracking some of her male clubmates as she claimed a pb time of 9:52:97 in her win.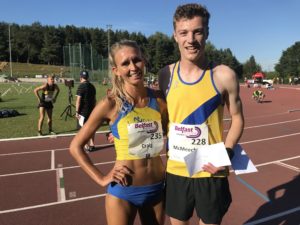 As expected Ben Reynolds won the mens 110M hurdles by one full second from second place with a time of 13:92.
Rio Catney was 2nd in the women's 3000m race timed at 11:16:43 with Dennis Scott pipping Francis Marsh to the line in a tight contest, 9:31:41 5th and 9:32:14 6th. Jamie McMeechan ran a good race to finish in 8th timed at 8:53:02. Megan Drummond was 3rd in the junior girls 100m, 13:10, Megan Briggs 3rd in the inter girls 800m, 2:24:92 and Sarah Connolly lost on countback in the women's high jump to claim 3rd place, 1:65 and 5th in the womens 110m hurdles, 14:60.
Aaron Sexton ran two highly competitive races and managed 4th in the mens 200m with 21:57 and 7th in the mens 100m, 10:81. Rachel McCann was 5th in the women's 200m, 25:92 and Rachel Gibson will be disappointed with her 800m time of 2:14:62 as she finished 11th. Jakob Swann continues his tour of 800m races this time clocking 2:02:70 for 8th and in the same race John Ewing pb'd on 2:05:42 which place him 12th.
Results2018-BelfastInternational2018