Thursday 5th was the A District Minor and Junior qualifiers for the Ulster Schools later this month at the Mary Peter's track.
Results:
100M Minor Ryan Hamilton 2nd 12:28 (PB)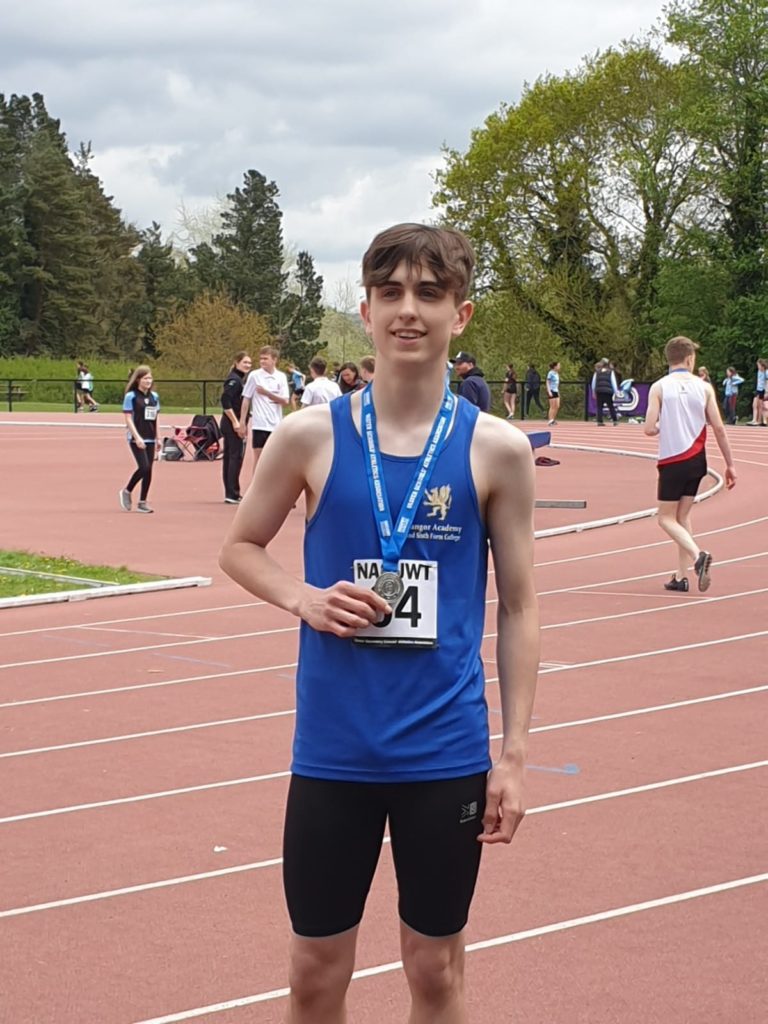 800M Minor Alex Downey 2nd 2:29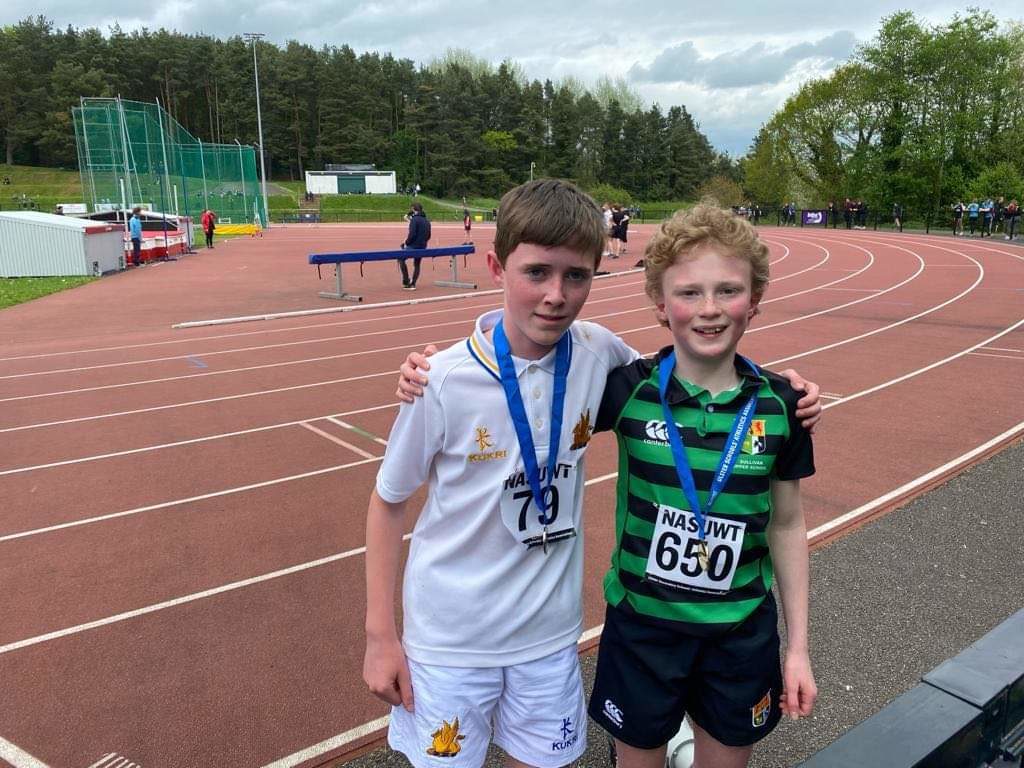 100M Minor Relay Tomas Montgomery part of the Regent House team that broke the existing record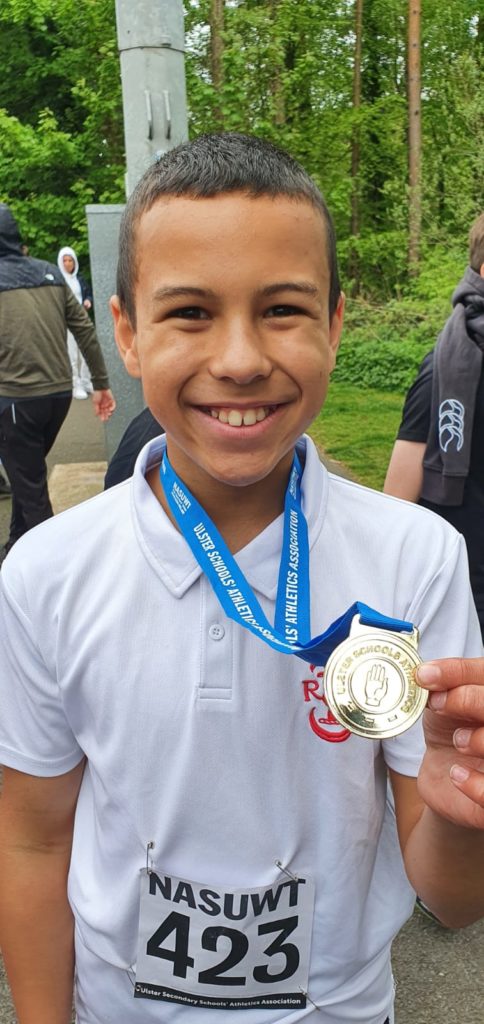 800M Junior Lauren Cheatley 5th
800M minor Holly Blease 6th
800M Junior boys Seb Holley 1st 2:07
800M Junior Girls Becka Laffin 3rd 2:22
75M Hurdles Junior Girls Ella Riddell 3rd
1500M Steeplechase Inter girls Lucy Cheatley 1st new district record 5:48:99
1500M Steeplechase Inter boys Ben Acheson 1st 5:11
3000M Inter girls Mac Eager 1st 11:28:67 and 3rd in 1500M 5:16:29
3000M Inter girls Chloe Verner 3rd 11:53:37 and 1500M 7th 5:35:18
3000M Senior Girls Amelia Tyler 3rd 11:56 and 1500M 3rd, 5:22
3000M Inter boys Ethan Isles 3rd 10:15
100M Inter Boys Conor Adair 12:21 pb, 400M 3rd 55:23
300M Inter girls Eva McCann 53:10, Shot 13:82M
800M Inter girls Amber Day 2:42 pb
800M Inter boys Oliver Playfair 2:20 pb
800M Senior Boys Ryan Lynas 2:13
200M Senior Boys Ben Cardwell 25.5 pb and 400M 57.00 pb.
u13G – 150m Caoimhe Fenlon 2nd A, Eva Cupitt 1st B
800m – Freya Lowry 6th A, Caitlyn Dickenson 5th B
Long jump – Caoimhe Fenlon and Ruby Tolland – not sure of the result, possibly say 'performed well'.
3rd relay team (Eva Cupitt, Roby Tolland, Caitlyn Dickeson, Caoimhe Fenlon)
u13B – 1500m – Bailey Duncan 3rd A, James Blease 4th B
High jump – Ben Love 'performed well'.
u15G – Anna Moran – 3rd javelin A, 4th long jump A, 3rd 100m A
1500 – Holly Blease – 3rd – 1500A
100B – Victoria Ifonlaja 4th -100B
u15B – Thomas Barnett 2nd 80m hurdles A, 5th 300m A
800m – Isaac Dunne 4th A, Aodhan Keag 2nd A
100m – Ryan Hamilton 2nd A, Cameron McCracken 1st A
3rd in relay (Cameron McCracken, Isaac Dunne, Aodhan Keag, Ryan Hamilton)
u17G – Anna Cousins 2nd Long Jump A, 2nd 200m A
Shot putt – Niamh Fenlon 1st A,
300m – Niamh Fenlon 2nd A, Lucy Dawe 2nd B
Javelin – Morgan Wilson 1st A
800m – Lucy Cheatley 2nd A
200m – Niamh Fulton 2nd B
Keira Semple – 'performed well' – long jump B
2nd in relay (Niamh Fenlon, Niamh Fulton, Tabitha Moran, Anna Cousins)
u17B
Triple Jump Andrew Brown 1st A, Daniel Constable 1st B
400m Conor Adair 2nd A, Daniel Constable 2nd B
Discus Andrew Brown 2nd A
100m Jamie Moffatt 2nd A, Joshua Chacko 1st B
1st in relay (Frazer Fulton, Joshua Chacko, Conor Adair, Jamie Moffatt)