Sean Nickell claimed a superb 3rd place at the Castle Ward endurance event last weekend, one of four North Down members to compete over the three day event.
Starting at noon on Saturday all runners were required to complete a 4.2 mile loop of the National Trust property each hour at whatever pace they saw fit and repeat the process every hour until timed out or unable to continue.
At midnight on Sunday, after 36 hours of outstanding determination and having hit his pre race target of 150 miles(151.2 to be completely accurate), Sean claimed his medal and headed home for a well deserved rest. The race was eventually won by Peter Cromie having competed 41 loops and 172 miles.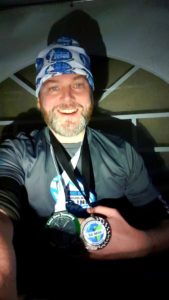 Earlier in the weekend and in a first foray into this long distance craziness, Eamonn O'Reilly completed 10 loops of Castle Ward. Having built his endurance base in the standard 42km of marathon distance it was some what appropriate that his 10 loops totalled 42 miles, the longest distance that Eamonn has ever completed. Donald Smith is an old hand at this sort of event and he was more than happy to clock up 12 loops and 50 miles, the exact same distance as fellow club member Gavin McDonnell.