This mountain running lark seems to be catching. This weekend Mark Weir competed at the first race in the British Fell running championships as he circumvented a 15K route including Slievenaglogh, Meelbeg and Commedagh – in thick fog. Rio Catney made it two weeks in a row testing out fell running as she participated in the NIMRA junior race.
When runners are falling and needing stitches to tidy up their wounds it puts in to perspective the need to stay upright and "just get round". Mark managed the route safely and finished midway through the field in a time of 2:19.
Rio finished 6th in the junior race where the race took on the quarry, granite steps and forest area and was fortunate enough to be visibly clear. Two great weeks of racing over the mountains seems to have intrigued Rio with plenty quality running sure to come.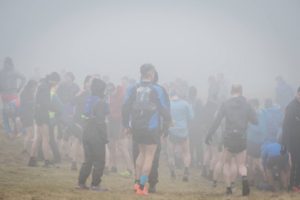 Full results British Fell running series