The 8th and final leg of the NI Athletics Cross Country League saw Lurgan play host to the best of the spiked shoe brigade in pleasant conditions reminiscent of the opening Comber event way back in October. In-between times our hardy heroes were mud sodden in Cookstown, battered by the howling winds of Mallusk and a combination of the two in Derry, with lashings of rain thrown in for good measure!
The ladies were out in force as usual, Helen Byers ensuring that her team were competitive both in terms of turnout and podium places. It's been a feature of the ladies success in recent times that they have been able to rely on a core group to show up for pretty much every race, Jodi Smith, Nicola Stevenson, Claire Scott, Jo Moran and Hannah Dunne being prime examples. On this occasion Rachel Gibson and Sarah Grant led the charge, scrapping it out for individual honours and laying a tremendous foundation for the team prize. In the end Rachel just edged the battle for 3rd place, but with Amelia Tyler running out of her skin to claim 8th and Jodi Smith packing well for 9th, team gold was secured with plenty to spare.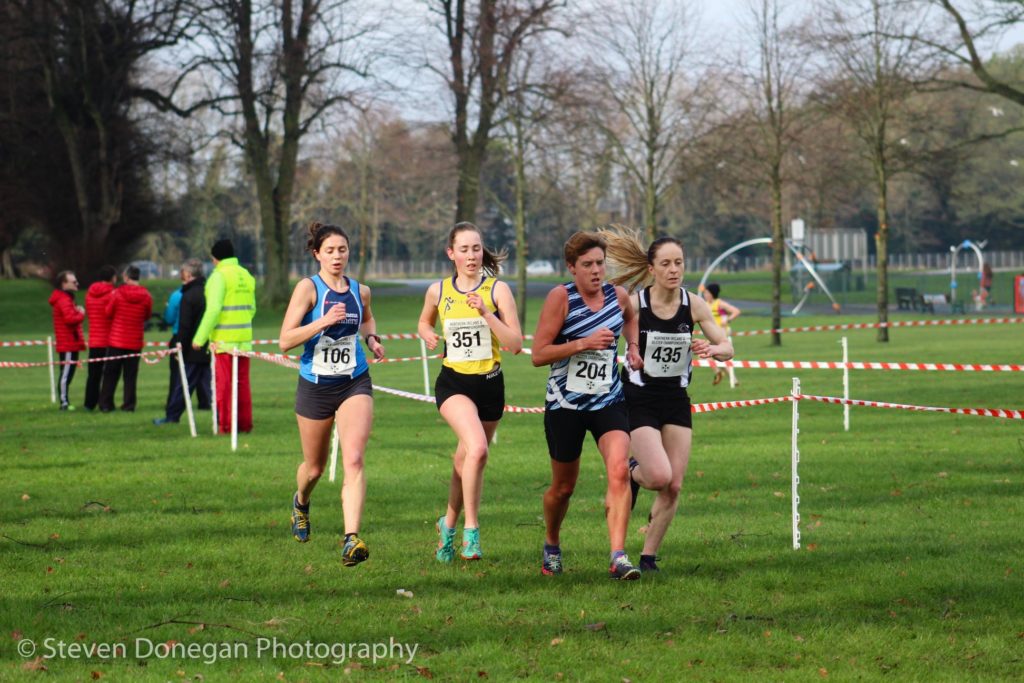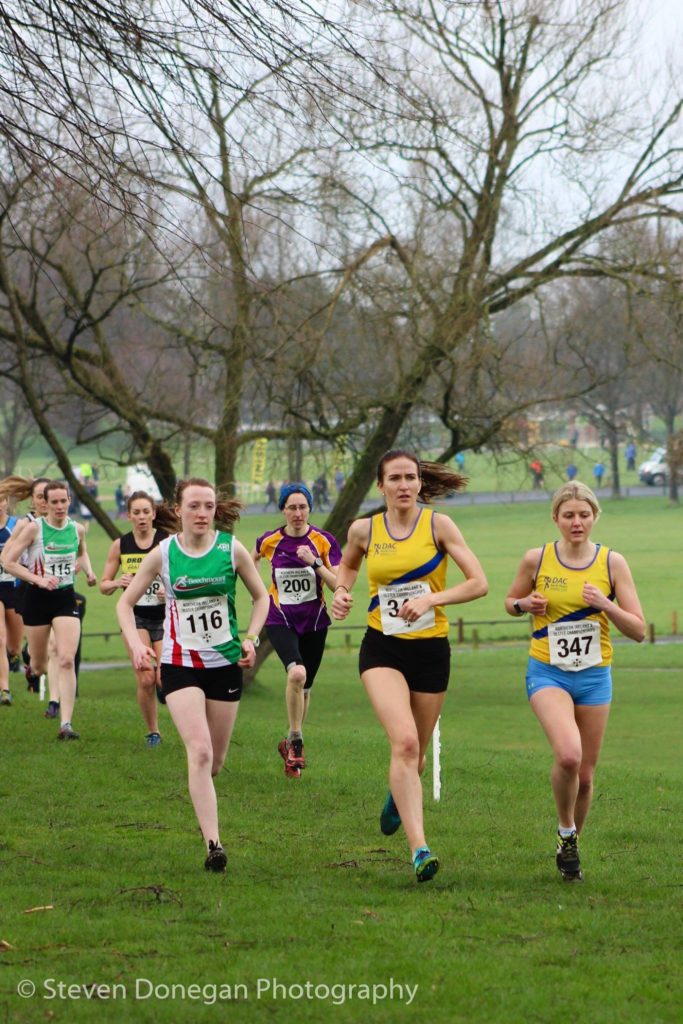 Emily Mills ran strongly for 22nd place, Valerie McDonough was 49th before a rush of yellow and blue with Helen Byers (59th), Claire Scott (61st) and Lindsay Doulton (62nd). Zara Fulton came in 74th, Lisa McMeechan 89th before June McMinn, fresh from her category win at Stormont, claimed 98th. Jo Moran was 112th, Hannah Dunne 115th and Nicola Stevenson in 117th.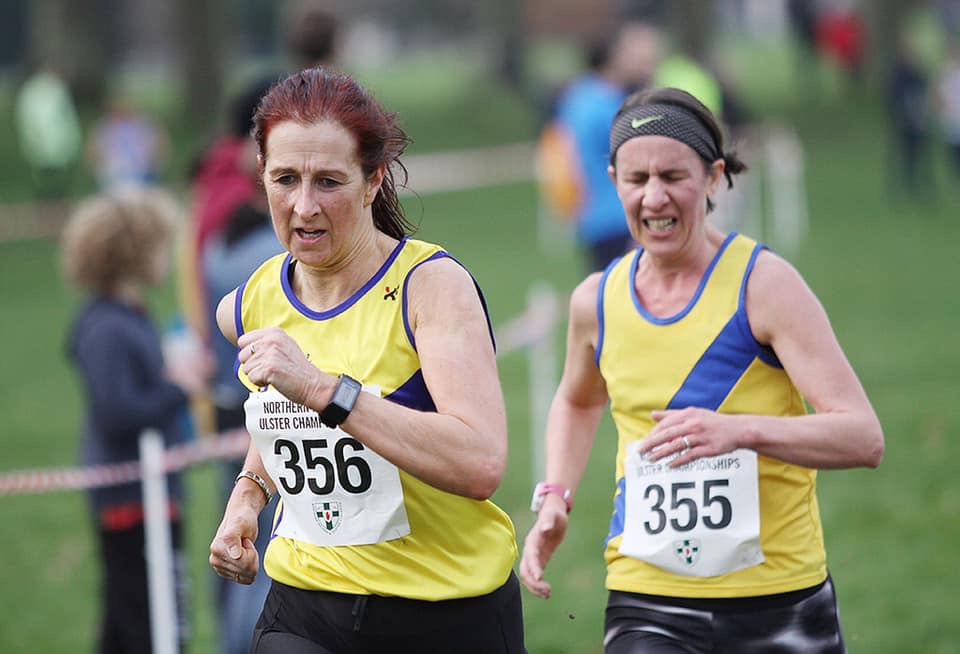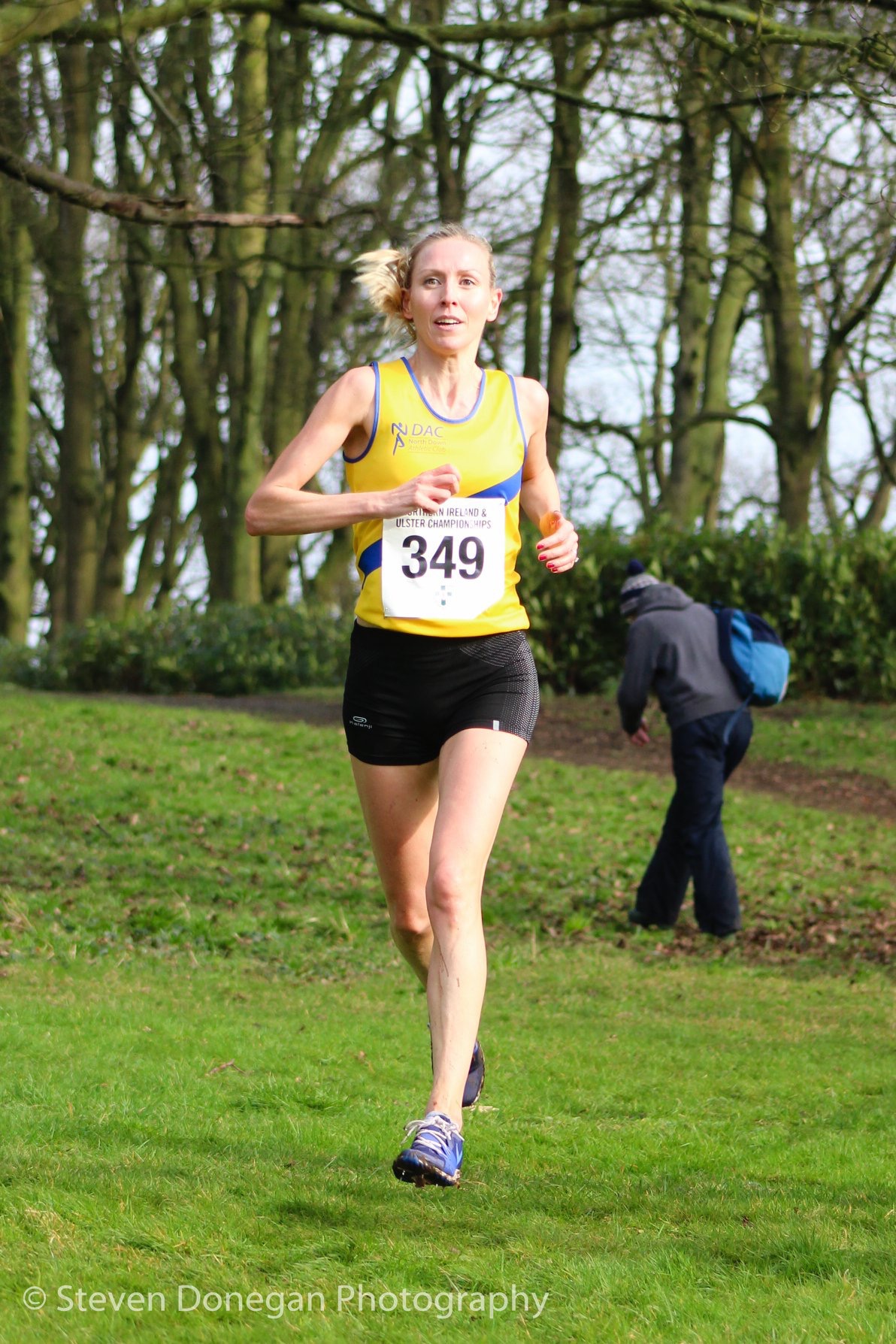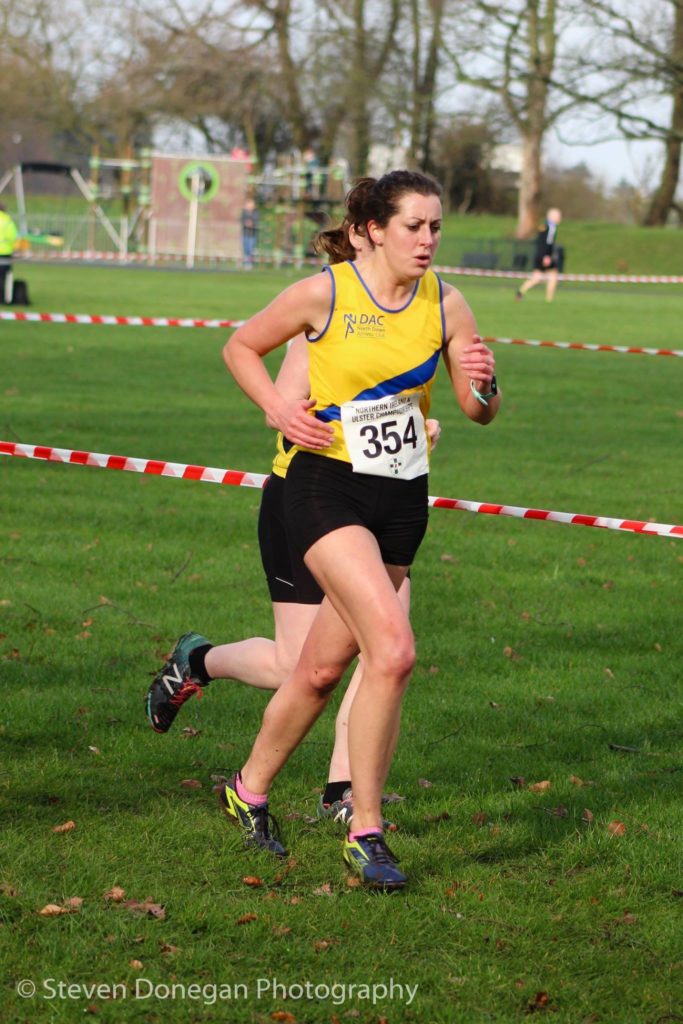 For the men's race the club were able to field possibly their strongest team of the season and with six to score, every position was hard fought with North Down eventually easing out Willowfield by just 2 points to take a well deserved team bronze.
As has become the norm Craig McMeechan led the way, holding his own with the best in the country and eventually placing 6th, Derry Spartans coasted to the team win with North Belfast Harriers comfortable in second. Willowfield had three inside the top twenty, but when the North Down cavalry arrived they did so in numbers, Thomas Patterson (25th) leading home a tightly packed bunch of Jamie McMeechan (26th), Francis Marsh (27th) and Jordan Stokes (31st). With medals on the line it was left to the captain, Dennis Scott to claim 35th, just seconds in front of two Willowfield rivals for the 6th and final scoring place and a somewhat unexpected but hard won team prize.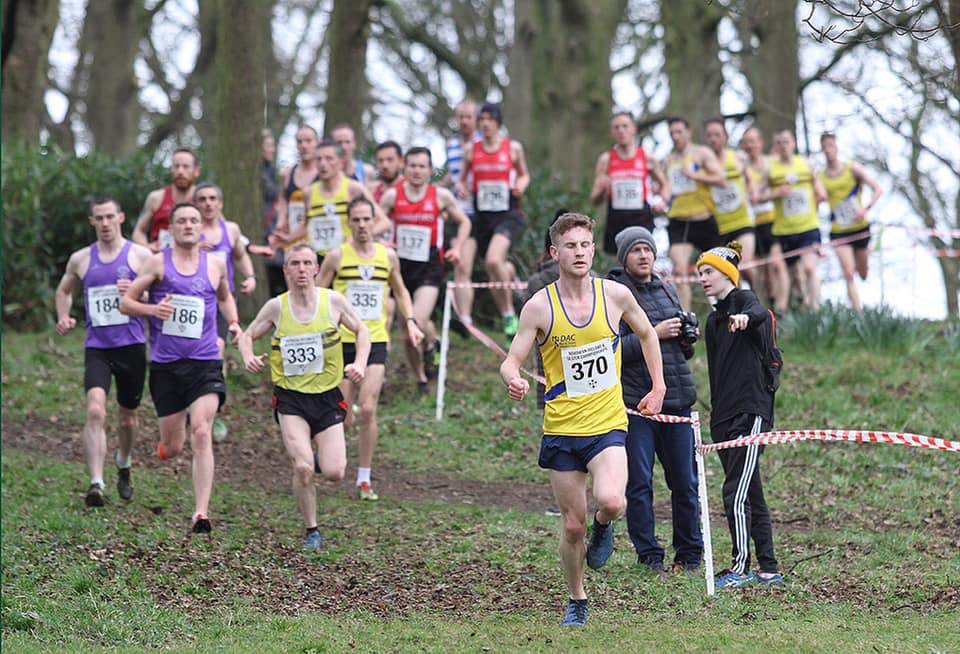 Of course the bigger picture was always the league position and whilst not as successful as their all conquering female counterparts, the men's team can be proud of their efforts this past winter. They too have benefitted from a dedicated core to their team, Jamie McMeechan, Mark Weir, Chris Moran, Mitchell Brown, Colin Walker and Jamie Stevenson making their captain's life easier by putting their hand up on a regular basis.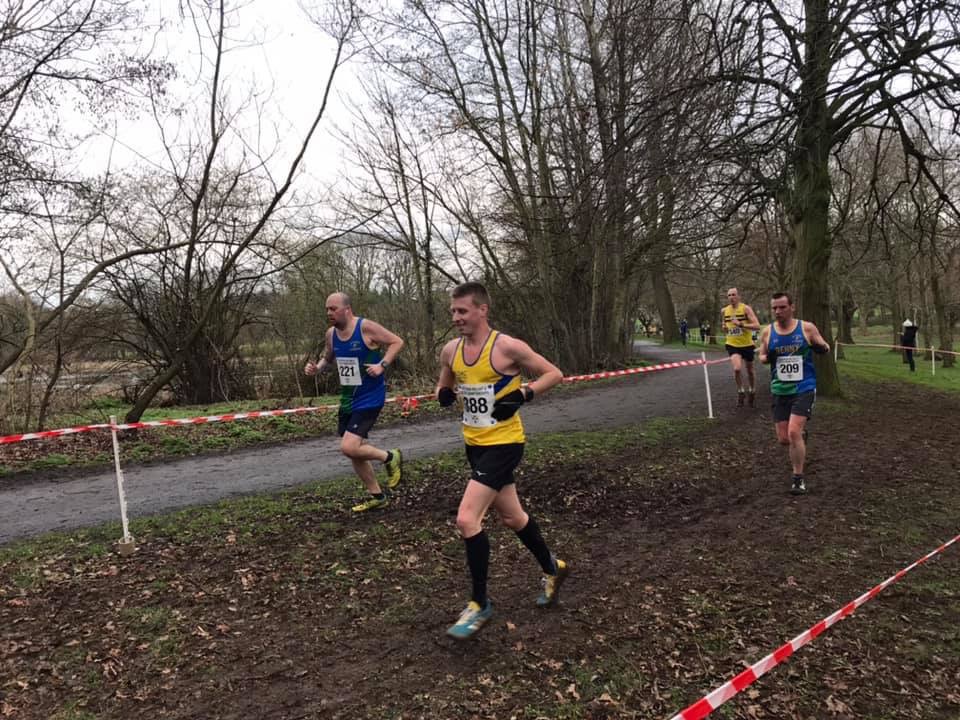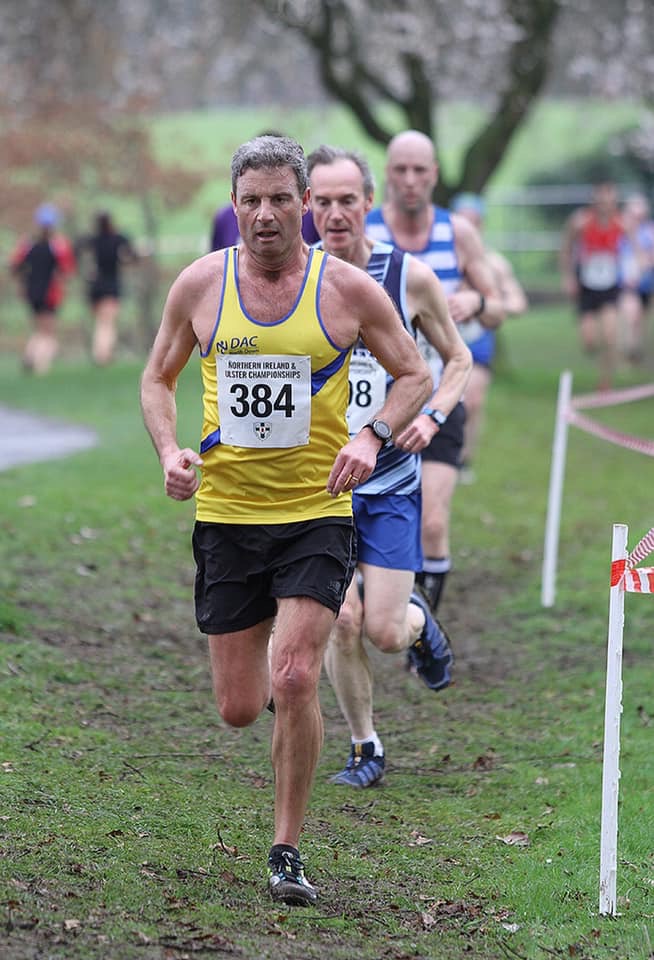 Having secured team bronze it was all about getting the full compliment of 12 scoring runners over the line. Steven Donegan duly obliged with 98th place, before another man who has improved significantly over the winter, Mitchell Brown in 102nd. The ever reliable Chris Moran was 104th, followed by Gerry O'Boyle (110th), Colin Walker (113th) and Frankie Rea (120th). Davy McMeechan and Phillip Mulligan finished side by side in 128th and 129th, whilst Alan Massey continued his recovery from injury to place 142nd. Alan Hughes (153rd) finished alongside another man to make a significant contribution to the league campaign, Allen Cox in 154th before Jamie Stevenson (181st) brought the curtain down on what Coach Francis described as 'the club's most successful day at the NI Cross Country Championships'.